MOAB RV & GLAMPING RESORT
A Camping Paradise with Affordable Rates!
Discover the ultimate retreat at Moab RV & Glamping Resort. Embrace the warmth of our inclusive atmosphere where everyone is welcome, even your four-legged companions. With a variety of accommodation options available year-round, including FHU RV sites, charming cabins, kodiak tents, Tipi's, and Rental RV's, you're sure to find the ideal haven for an unforgettable stay.
| Site Type | Peak Seasons | Off Seasons |
| --- | --- | --- |
| RV Sites | $75/night | $70/night |
| RV Rentals | $180/night | $145/night |
| Cabins | $120/night | $120/night |
| Tipis | $160/night | $150/night |
*Peak Seasons: March 1st to July 5th & September 1st to November 15th.
*Off Seasons: July 6th to August 31st & November 16th to February 28th.
$60 cleaning fee for all RV Rentals. Cabins&Tipis cleaning fee of $25. Rates are subject to change. We offer a weekly discount of 10% on any stay 7 days or more. Veteran & EMT discount.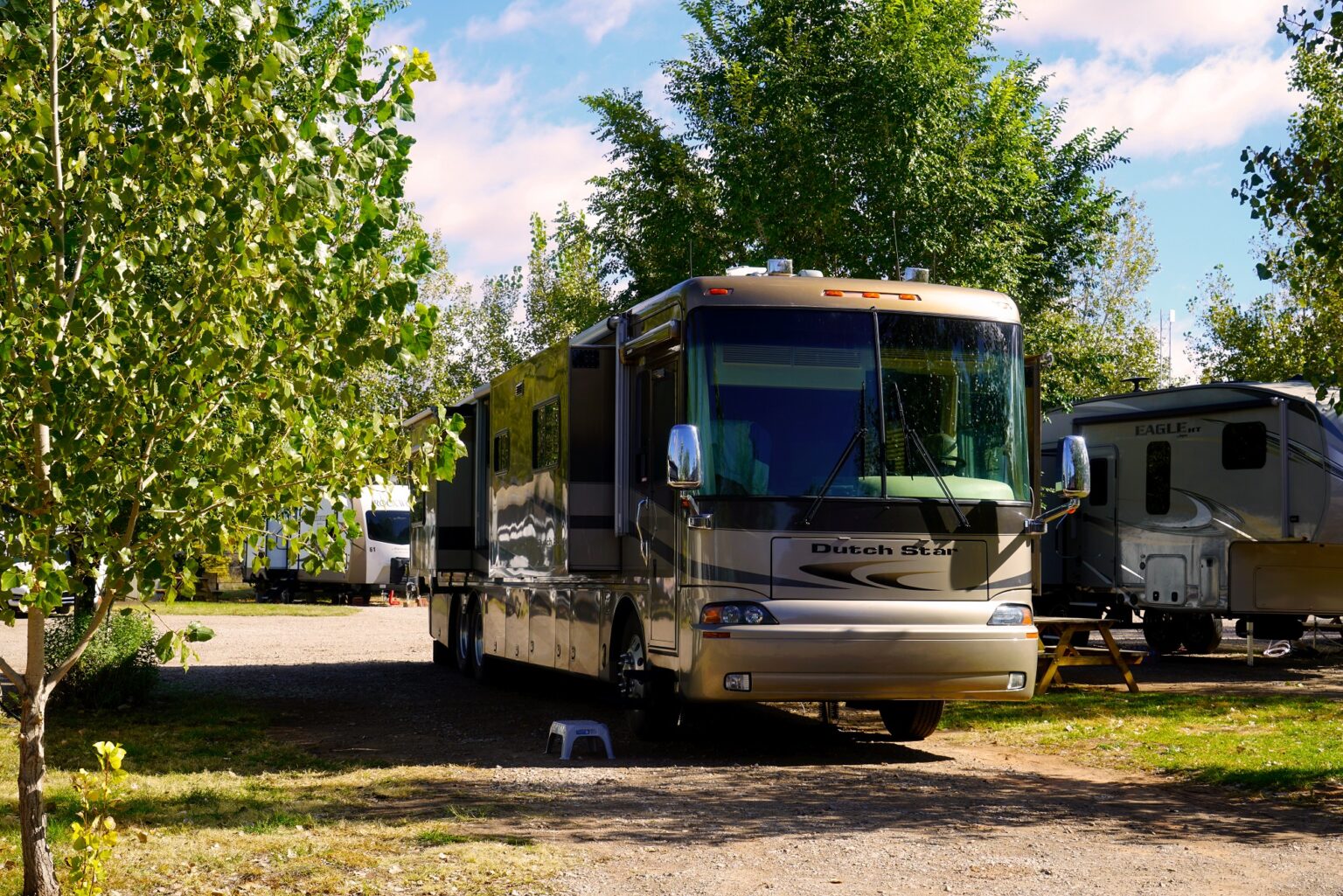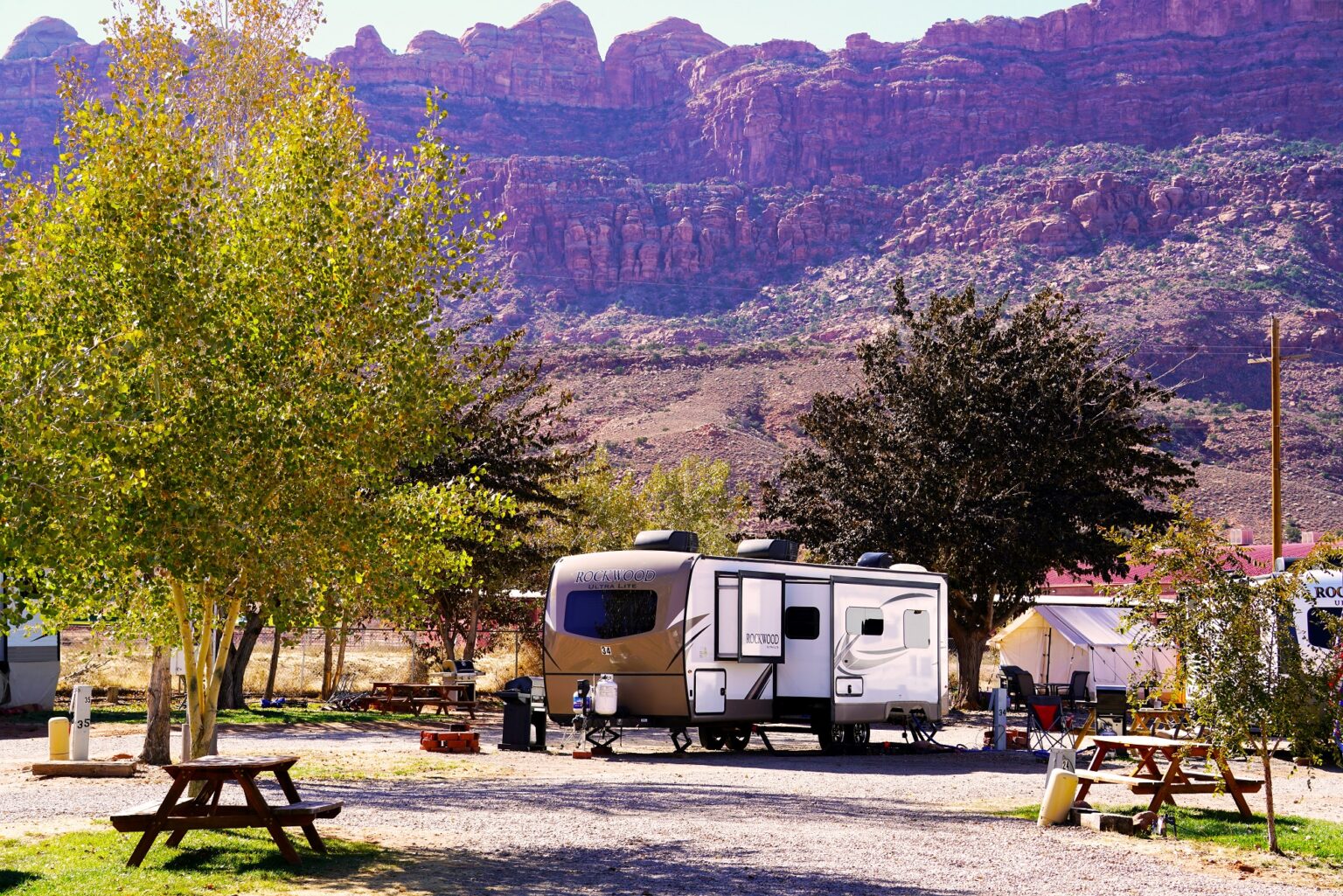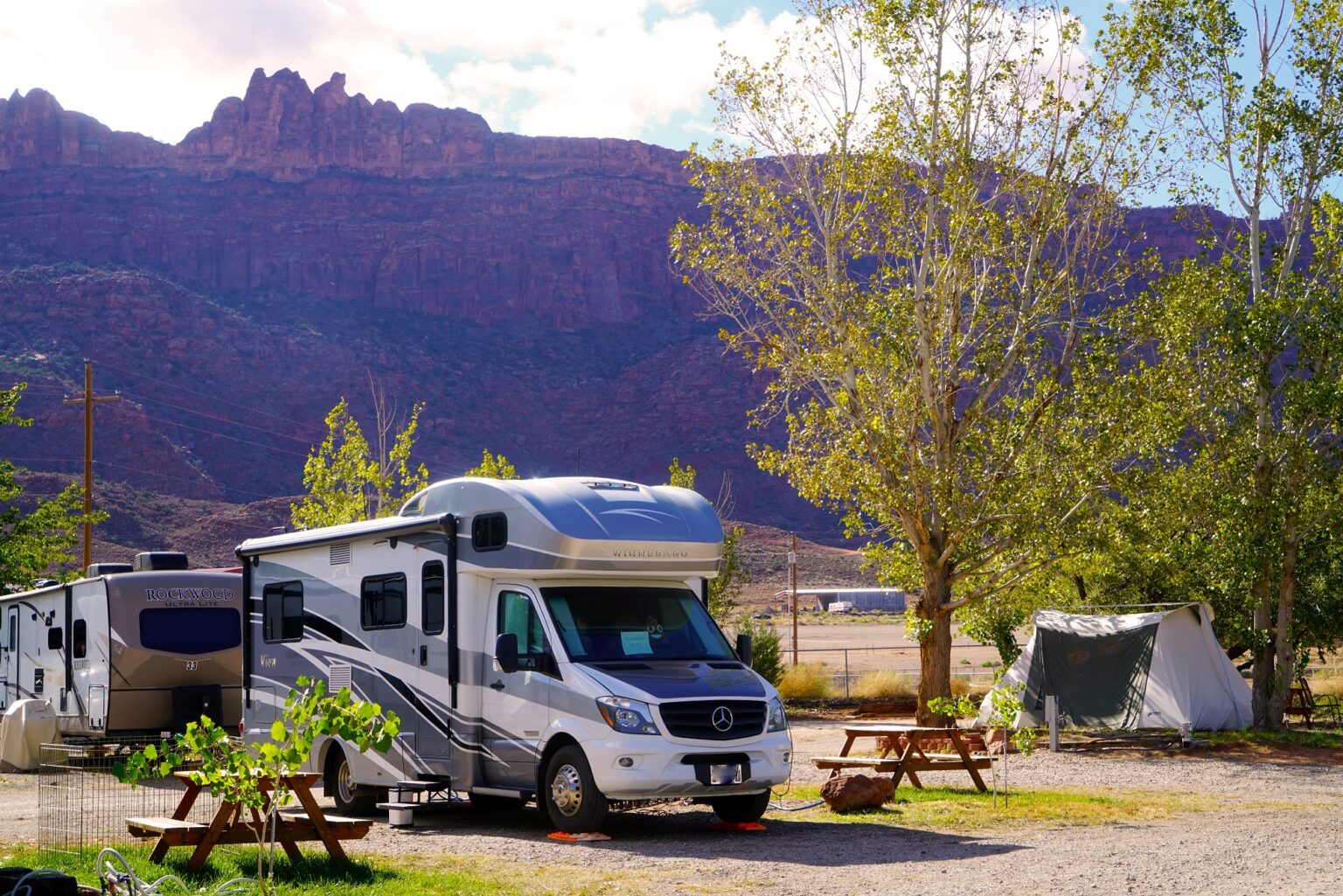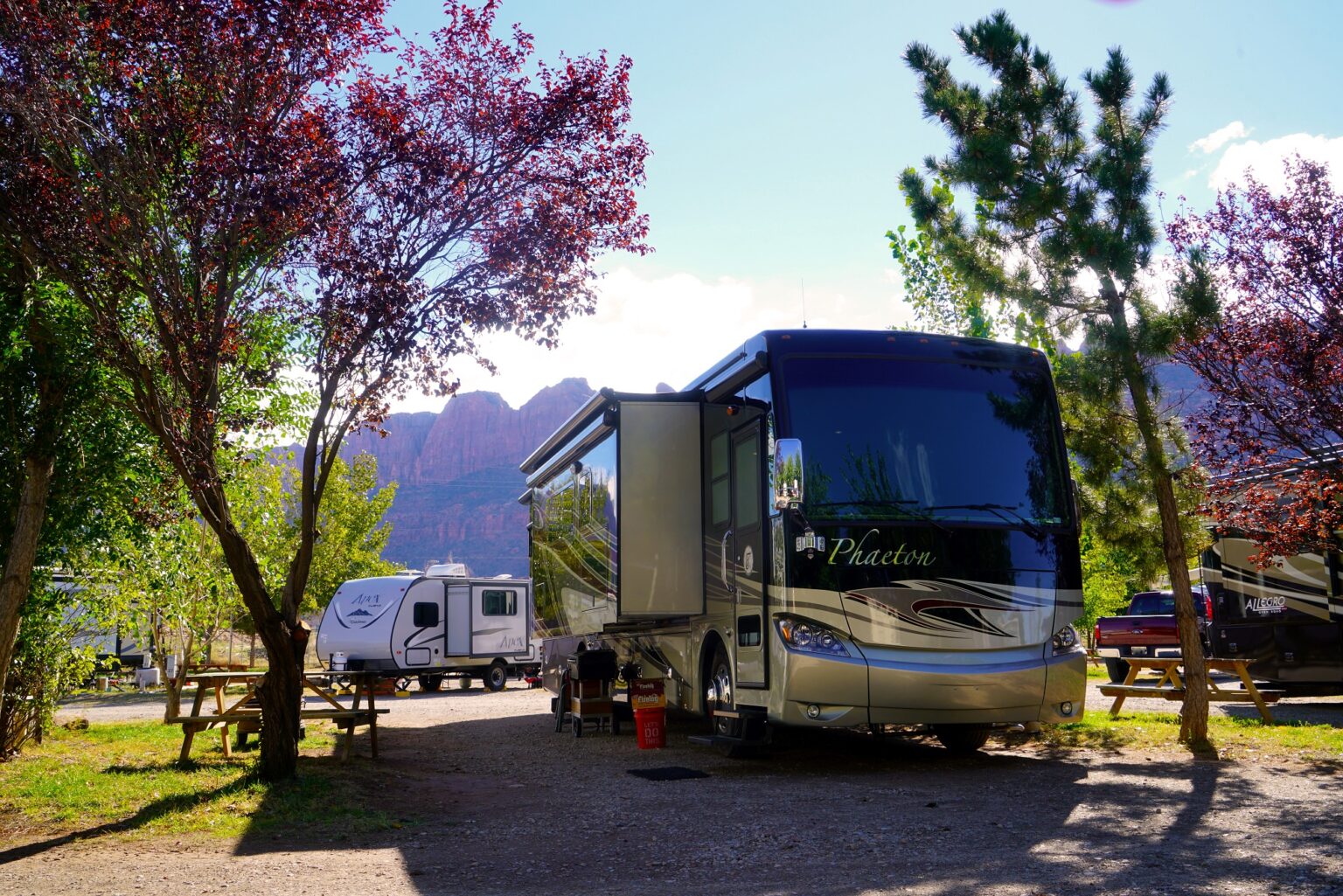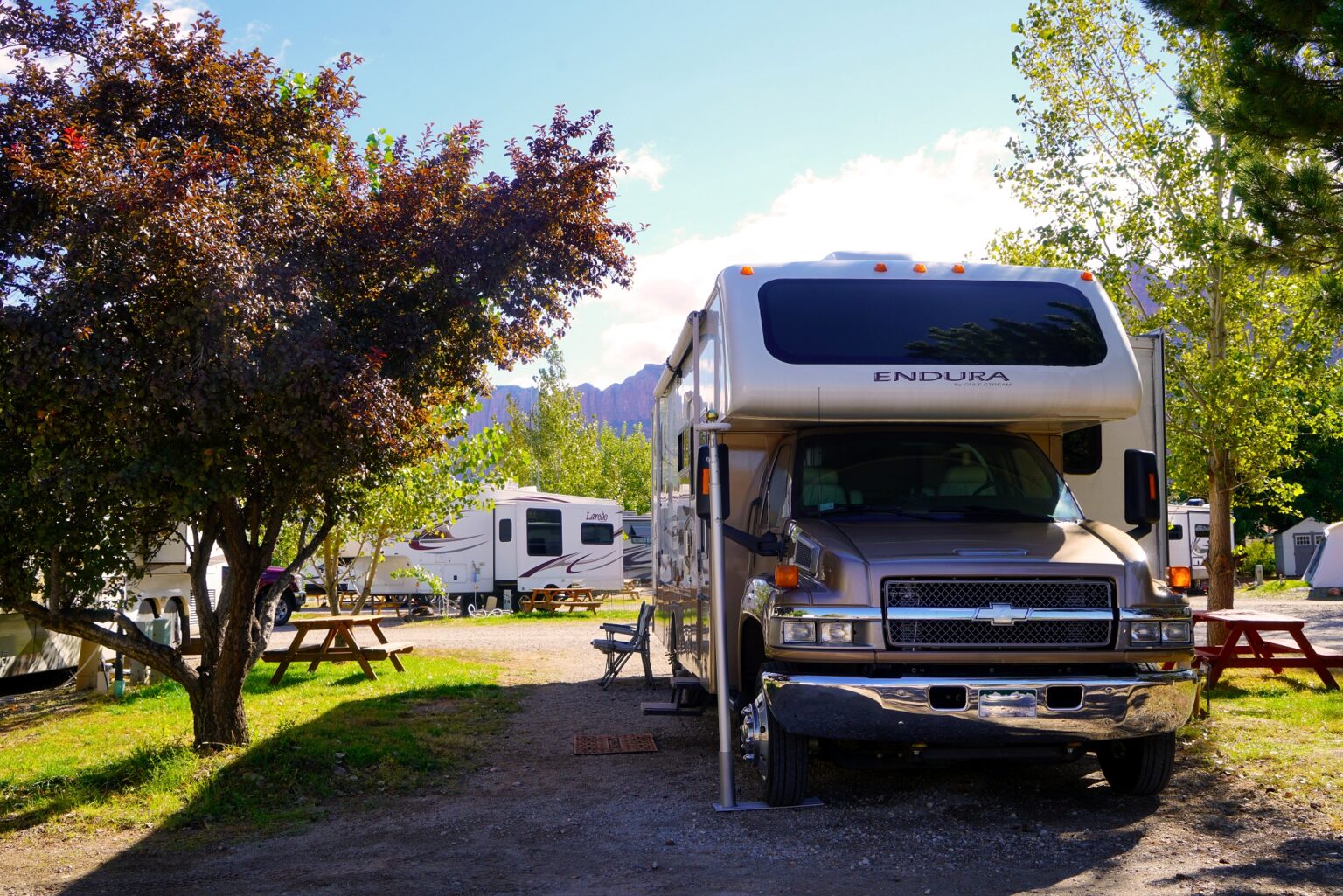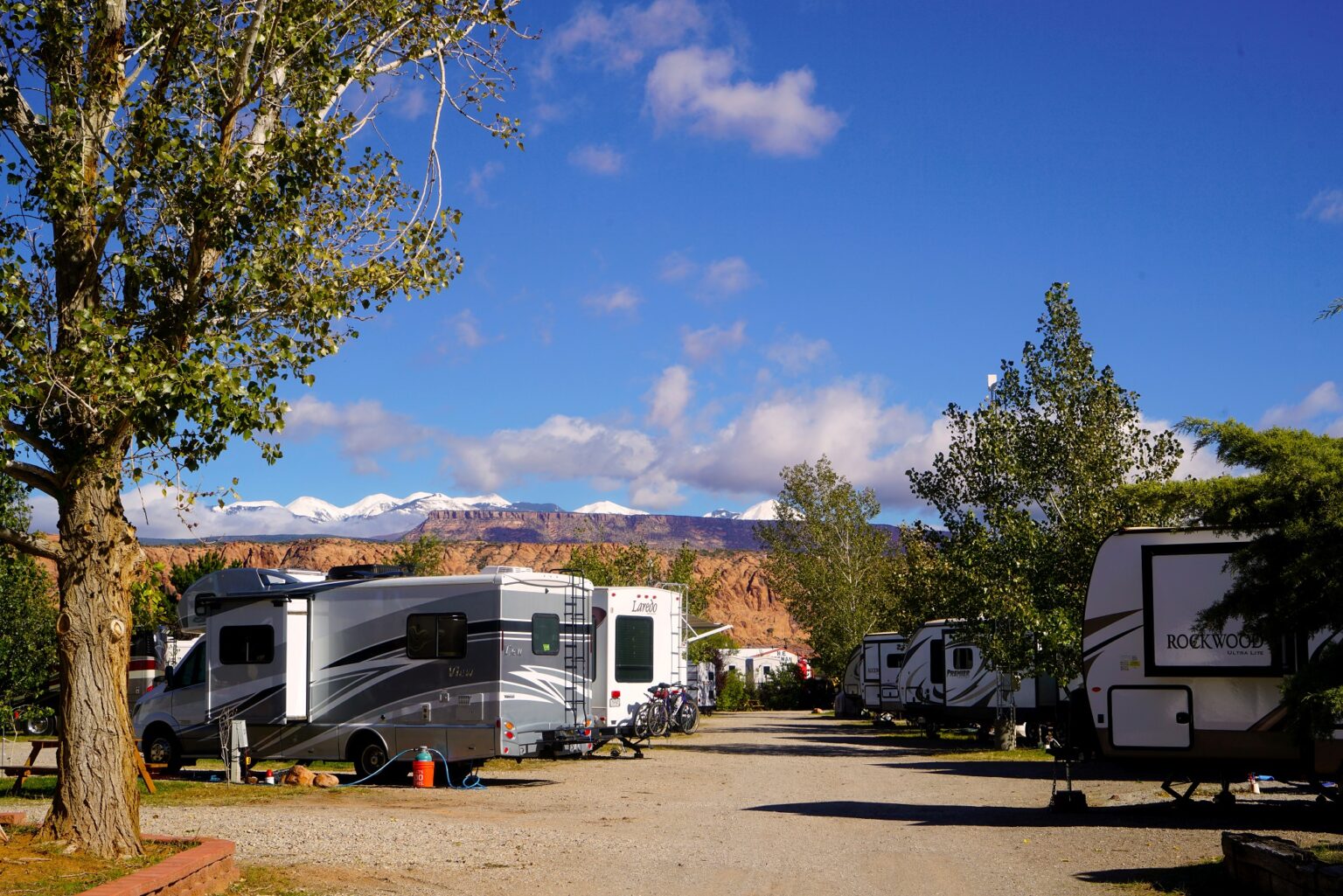 Full Hookup: Water, sewer, electric (30 and 50 AMP)
Picnic table
Cable
Access to a nice clean bath house that has several showers, toilets, and sinks
Laundry facility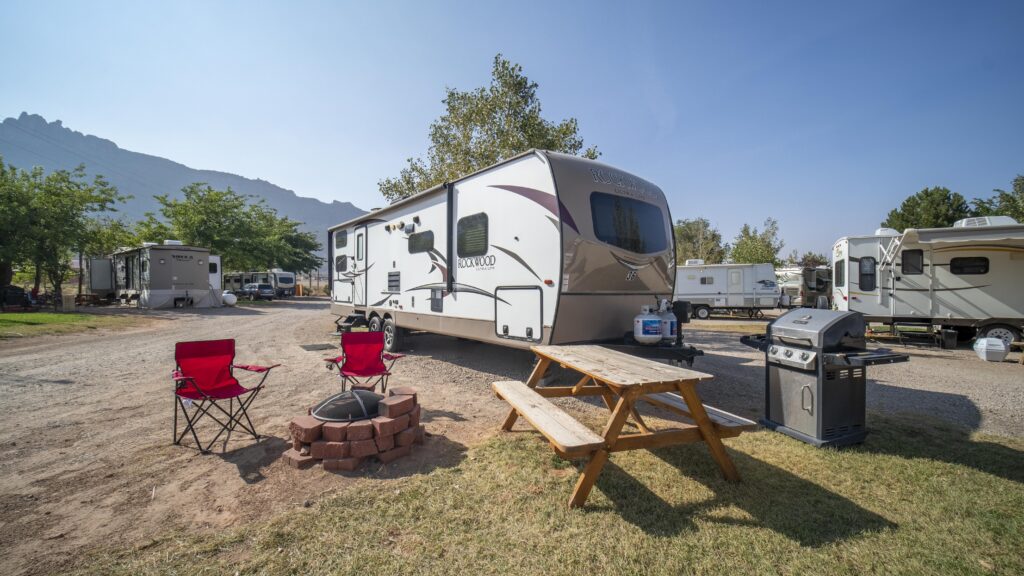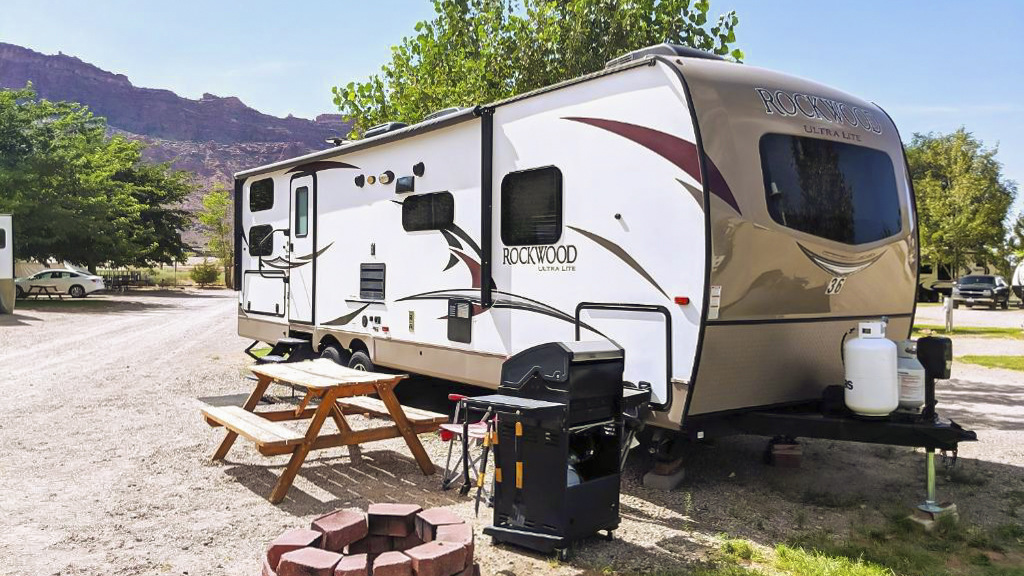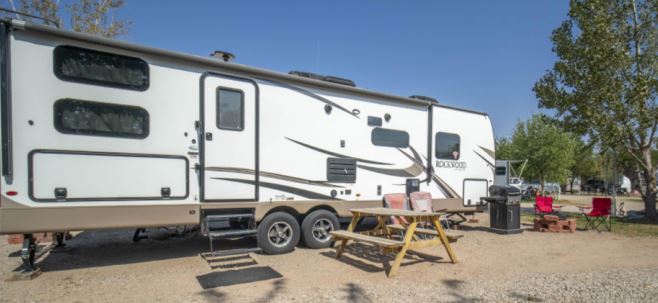 OVER 50% OF OUR CUSTOMERS ARE FIRST TIME RV USERS!
Enjoy the Camping and Outdoor Experience in the comforts of an RV! Our fully setup RVs are stationary and already hooked up to electric, water, and sewer. They include free WiFi. Each RV has patio furniture and a grill outside of it. They have well-appointed kitchens and include soaps, linens, blankets and towels. They are ready just like a hotel room! Extra showers, on-site laundry, and communal fire pits are available at the parks. Site fees are included in our pricing.
A wide variety of RV's to choose from that can accommodate 2-6 guests
All linens, blankets, soap and shampoo provided
Well-appointed kitchens to cook your own meals – just bring your food and you will be set!
At least one full bath in each RV (shower, not tub)
Patio furniture and grill outside each RV
Free WiFi
Great AC during summer and heat when its cold!
Access to coin laundry and nice clean bath house that has several showers, toilets, and sinks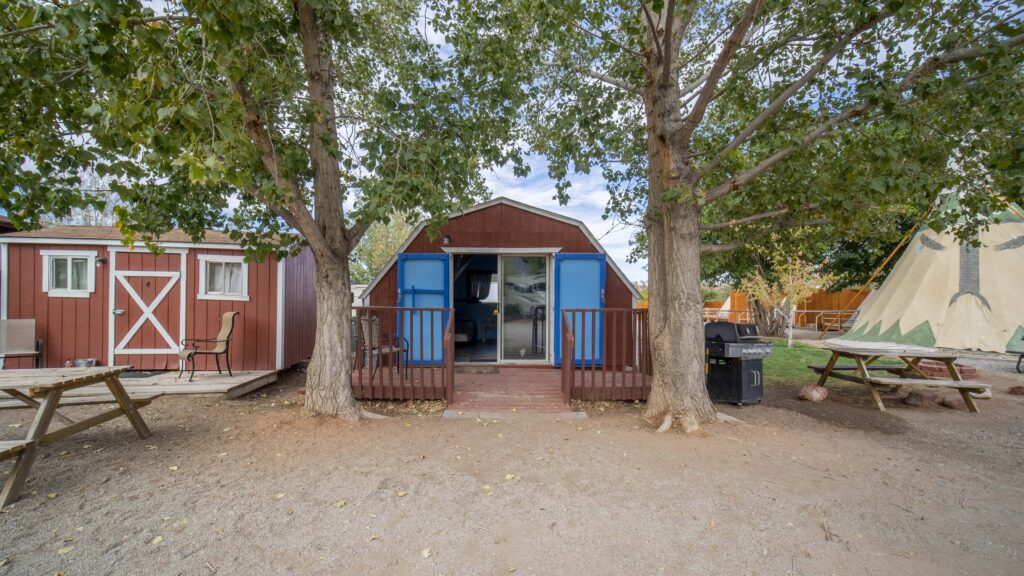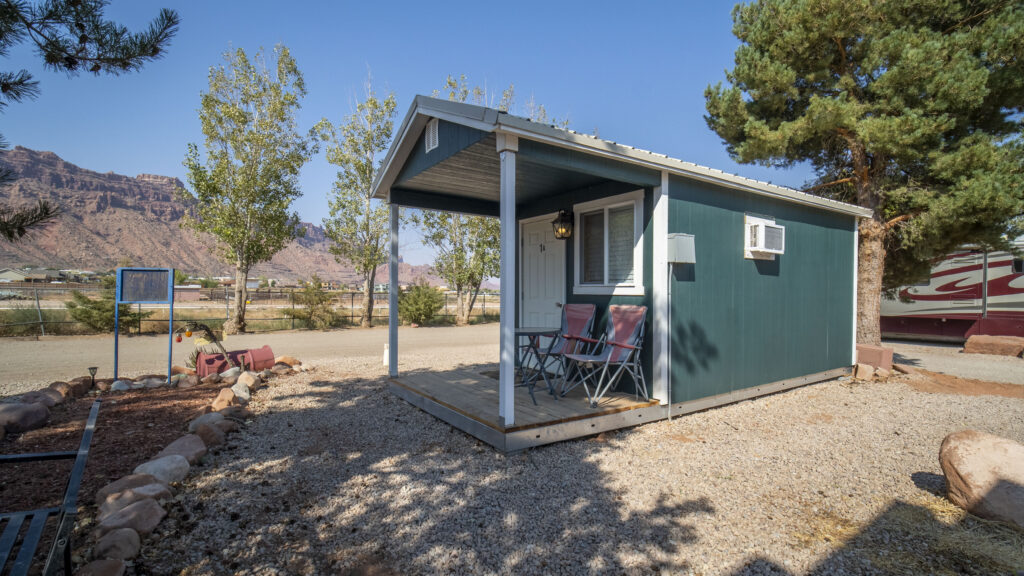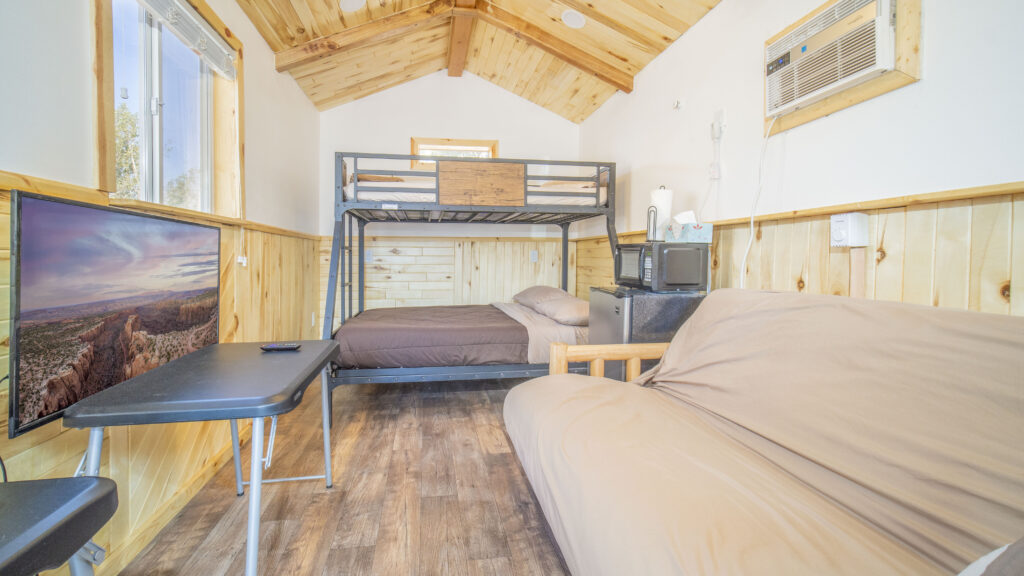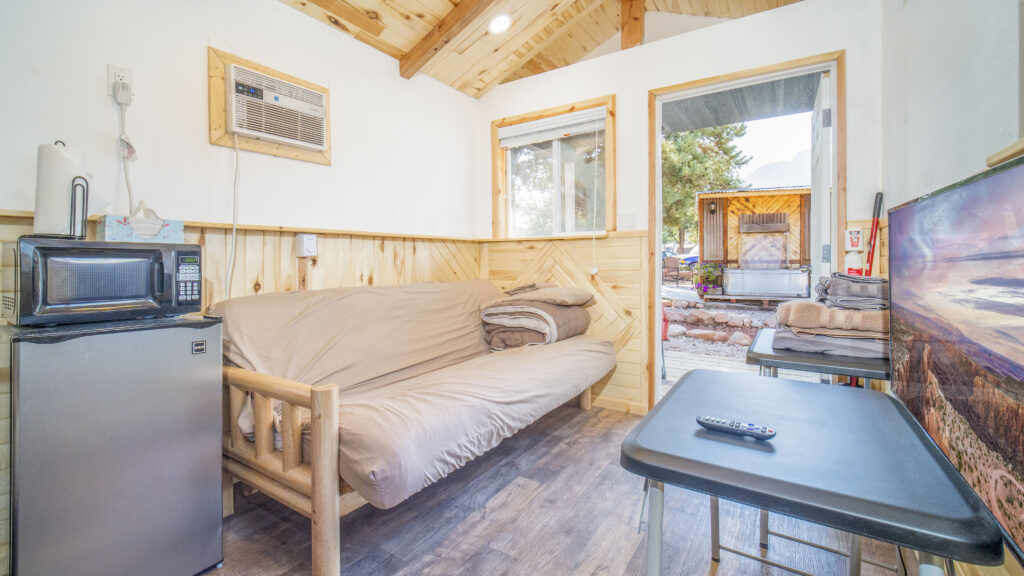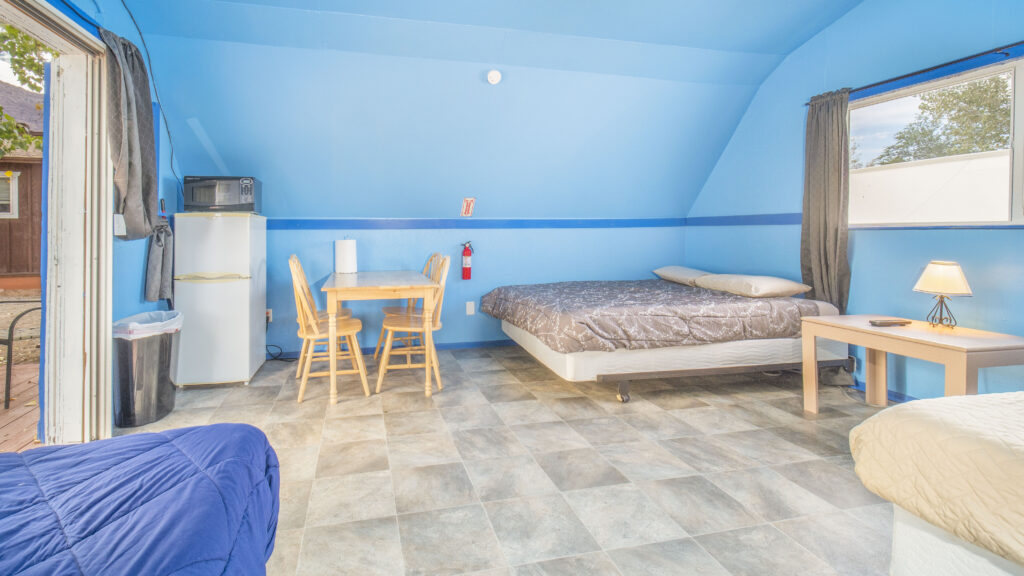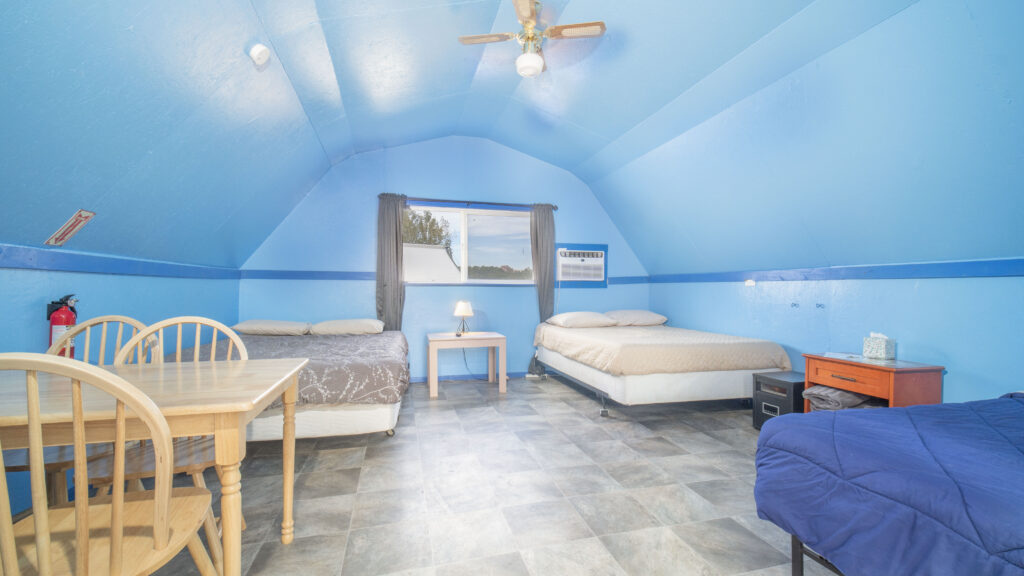 PLEASE CLICK THE "BOOK NOW" OPTION ABOVE TO REVIEW OPTIONS, PHOTOS, AND PRICING!
We have four basic cabins which are located right by the community amenities and bathrooms. Cabins sleep 3 people, 4 or 5 depending on rental. Each has an AC/Heater along with a mini-fridge. Each one has a microwave! There is some patio seating right outside the front doors. All linens and blankets are provided. These are great, no-frills camping options. They are also a great "extra sleeping" option if you have too many people in your RV.
Only Cabin #C4 is pet friendly
Guests staying in cabins must adhere to the following policies at all times:
Check-in for cabins begins at 4 PM
You must be 21 years or older to reserve/check into a cabin.
There is a strict No Pet policy for all non-Pet Friendly cabins. Fees will apply for animals found in cabins or any evidence of or damage caused by animals in cabins.
There is a strict No Smoking policy for all cabins. Fees will apply for anyone found smoking in cabins or any evidence of smoking discovered during or after your stay.
Linens are provided for each cabin. Additional linens above and beyond those provided will need to be furnished by the guest. Cabins without a shower do not include towels.
Kitchenware is not provided in cabins.
Cabin guests will be held financially responsible for any lost, damaged, or stolen cabin items.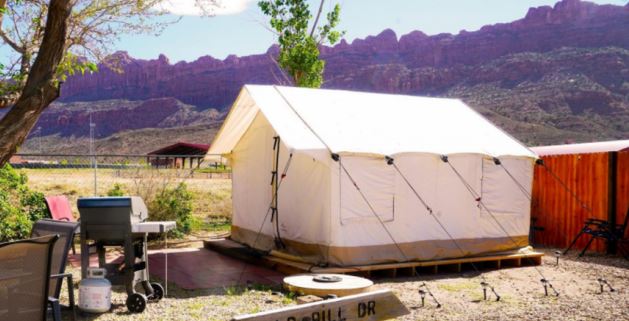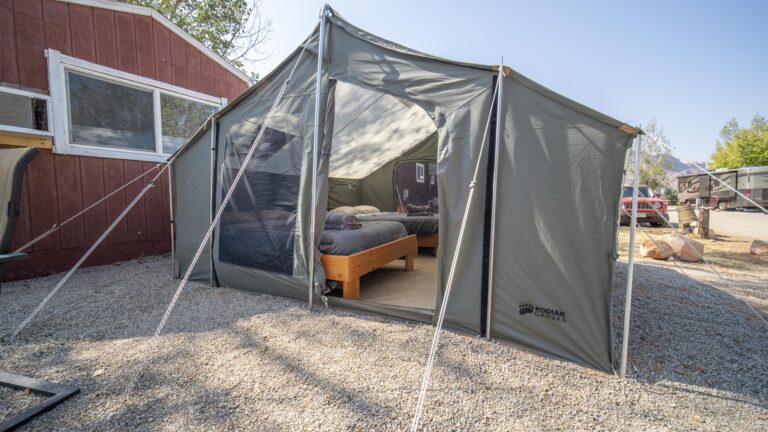 FULLY SETUP AND READY TO USE TENTS AVAILABLE!
No need to mess with tent setup. Just drive up and start camping!
Up to 4 guests
All linens, blankets, soap and shampoo provided
Each tent has a picnic table, lawn chairs and fire pit on its site
Access to nice clean bath house that has several showers, toilets, and sinks
Access to common area park patio and grills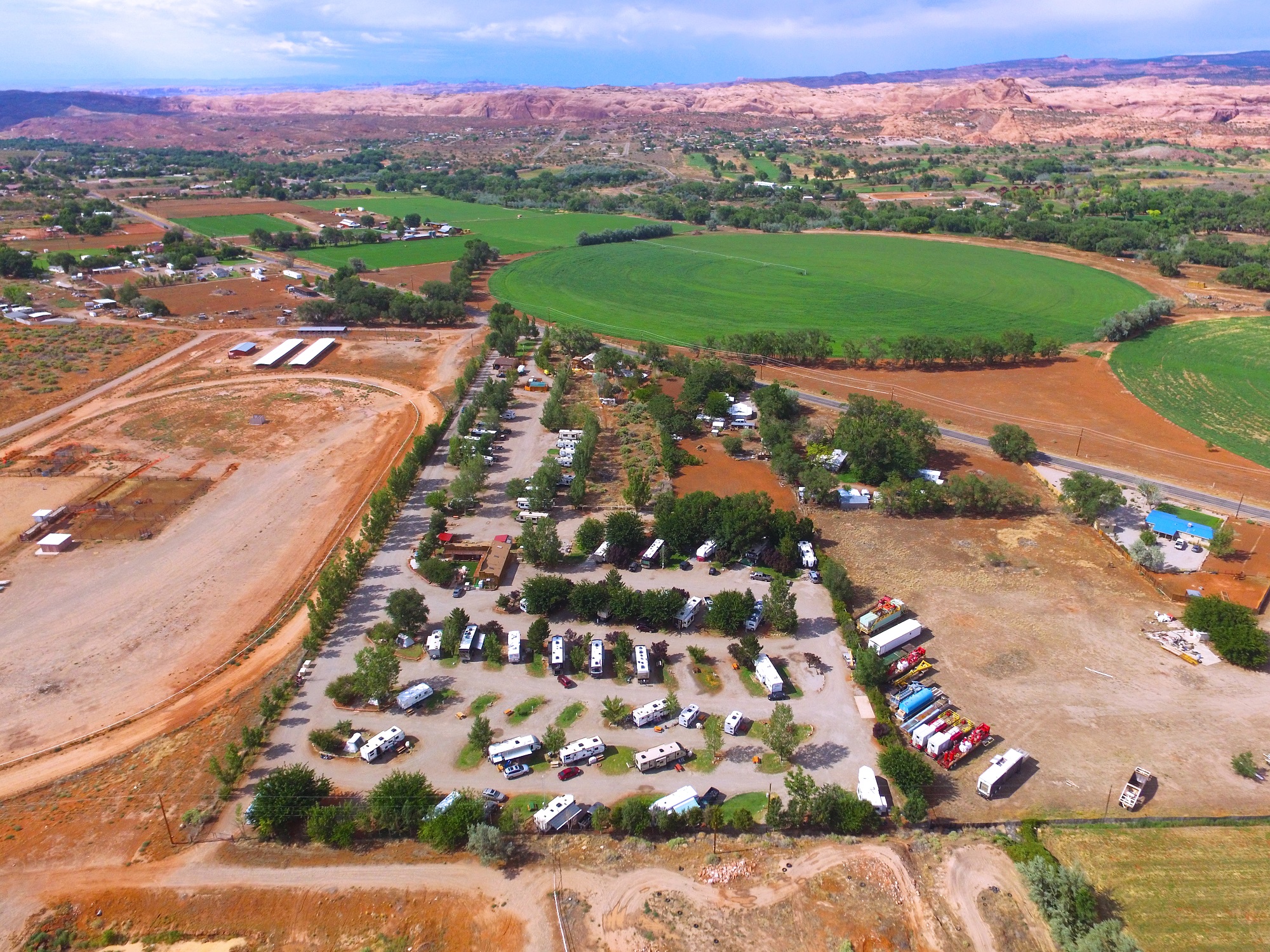 GROUPS, FAMILIES, TOURS AND MORE. ALL ARE WELCOME!
Are you looking for a place to host your next event? Look no further! We offer multiple group facilities perfect for hosting large gatherings.
Our front patio is available for rent and reservations for big groups. Along with our front patio, we have multiple different accommodation options perfect for diverse groups who may not all want to stay in an RV, cabin, or glamping option.