MOAB RV & GLAMPING RESORT
Discover the ultimate retreat at our peaceful RV and glamping resort, just minutes away from the breathtaking Arches National Park and Canyonlands National Park. Unwind and rejuvenate in our peaceful oasis after a thrilling day of exploration.
We provide a range of accommodations to cater to your every need, including spacious FHU RV sites, cozy cabins, convenient RV rentals, luxurious glamping tents, and charming tipis big enough for the whole family.
All of our RV sites offer full hookups with both 30 and 50-amp service. Our cabins and glamping tents are thoughtfully furnished with everything you require for a comfortable stay, while our tipis offer a unique and unforgettable experience.
Escape the ordinary and embrace exceptional adventures at our extraordinary RV park.
Stay in Our Premier RV & Glamping Resort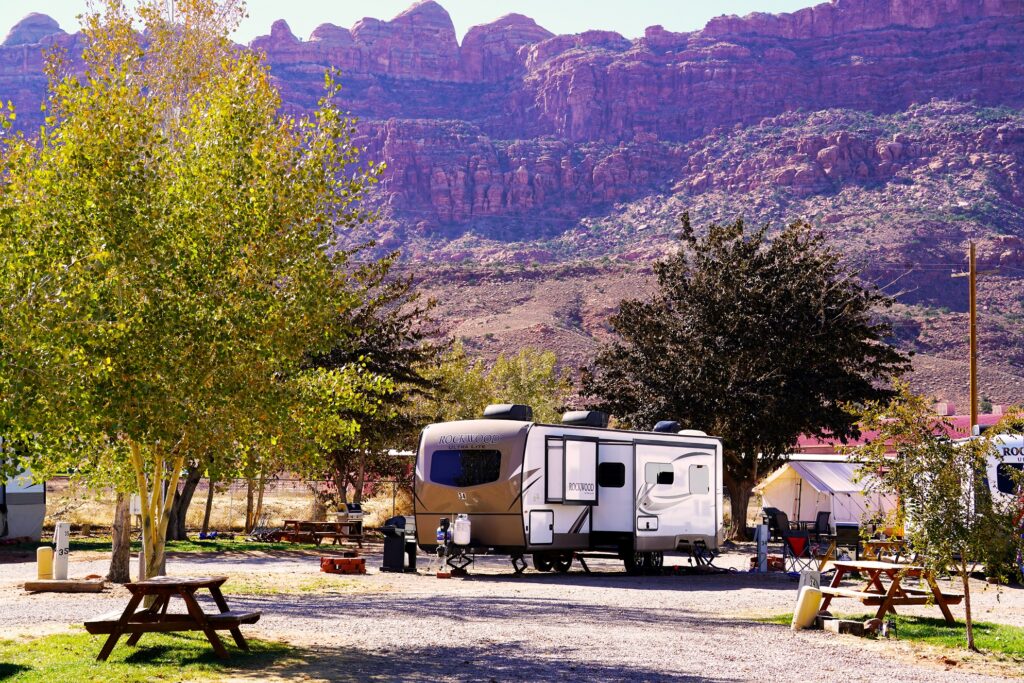 Experience the breathtaking beauty of Moab Valley. Immerse yourself in luxurious amenities and unmatched hospitality. Whether you choose to camp under the stars, relax in cozy cabins, or embrace the simplicity of tipi's or tents, indulge in the serene atmosphere of our retreat.
Escape to Redrock Tiny Home Park, just minutes from downtown Moab. Experience the best of both worlds with our fully-equipped Tiny Homes and RV rentals. Immaculately maintained and meticulously cleaned, our accommodations blend the beauty of nature with the comforts of home. Don't settle for ordinary hotels – here, you can indulge in grilling out and enjoying cozy campfire nights.
Pull-thru or back-in to big-rig friendly, generously-sized RV sites under the leafy trees and grand backdrops.
Our beautiful Tipi's are located throughout the resort. Each tipi has a private outdoor space with a patio set, fire pit, gas grill, outdoor sink, and lawn chairs
Each tent has a picnic table, lawn chairs and a fire pit on its site including access to nice clean bathhouse that has several showers, toilets, and sinks.
Our fully setup RVs are stationary and already hooked up to electric, water, and sewer. They include free WiFi. Each RV has patio furniture and a grill outside of it. 
Moab RV & Glamping Resort is located at
3310 Spanish Valley Dr, Moab, UT 84532
Questions? Comments? Give us a call or an email. We're here to listen.
Winter office hours Nov 10th to March 1st:
Monday – Closed – phone forwarded to Kim
Tuesday – Closed – phone forwarded to Kim
Wednesday – 9:00 am to 1:00 pm
Thursday – 9:00 am to 4:00 pm
Friday – 9:00 am to 4:00 pm
Saturday – 9:00 am to 4:00 pm 
Sunday – 9:00 am to 1:00 pm
Sign up and stay up to date on new acquisitions, special discounts, upcoming events, and so much more!